Michael Riley
Licensed Massage Therapist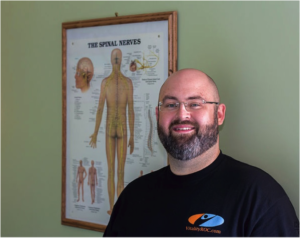 Michael Riley is a New York State Licensed Massage Therapist who completed his degree from the Onondaga School of Therapeutic Massage. He is currently working towards a degree in Physical Therapy.
His interest in massage and manual therapy began after having low back pain and recurring injuries for several years, which were finally fixed with the application of different manual therapy techniques. His focus is removing pain from every single individual, as well as performance care with athletes of every sport.  He also understands the role that stress can play in every person's life, and works to eliminate stress in everyone he works with.
Michael has trained extensively with Walt Fritz and completed all the Foundations in Myofascial Release courses, as well as been a teaching assistant. The techniques in which he works are very similar as Walt, with the combination of massage therapy.
For more information on my practice and for booking information, please click this link to be taken directly to my website: Michael Riley, LMT.
You can also reach Michael at (585) 347-5121.
Michael's sessions fees are as follows:
$45 = 30 min
$75 = 60 min
$115 = 90 minutes